Monthly Spotlight on Local Business and Residents
Featuring Curt Kaplan of Lotus Builders
323.573.7212
|
lotusbuilders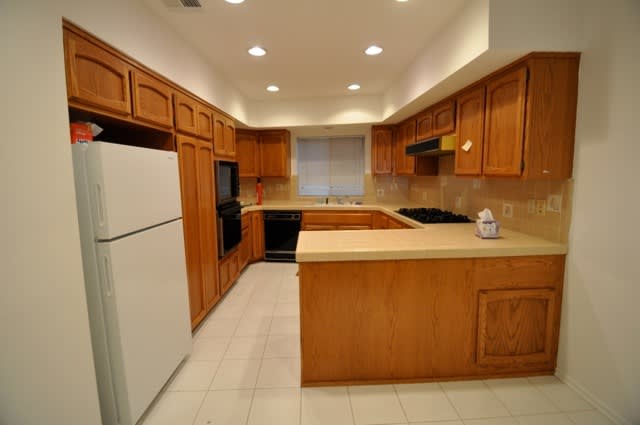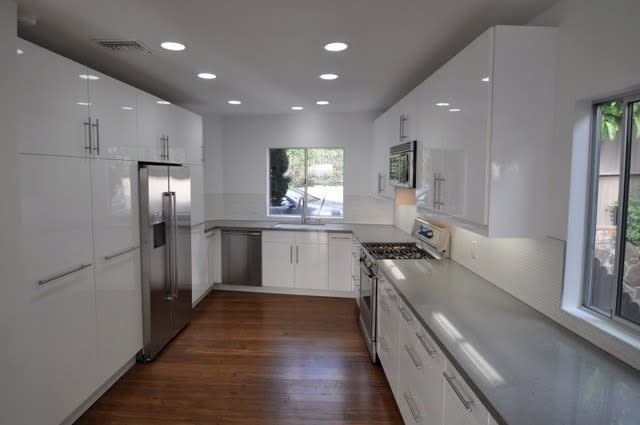 Photos above are before and after shots of a project on Spreading Oak. Click for
here
for more photos.
1. I know you to be a thorough guy with an attention to detail; talk about your process with a client when they approach you for a job.
My first step is to ask where the client is in the remodeling process, and then, most importantly, listen. Find out where they are in the process. Do they simply have an idea, like, "We hate our kitchen and want to remodel." or do they have a clear idea as to what they want, but no plans. Do they have a designer or a set of plans? Once I know exactly what the client wants, and needs are, then we take the next appropriate steps. We work with a draftsman, architects, engineers, designers…if needed or if the client already has a set of plans, then we can put together a comprehensive, line item estimate based upon the plans provided. We do most of our projects on an open book, cost plus basis. That is, we turn in all of our receipts, invoices from subs, job logs, etc. and charge our cost, plus 10% for overhead and 10% for profit. The costs are based upon the detail estimate provided, and then we use a cloud-based project management software called Builder Trend, to monitor all aspects of the project in one place job calendar, daily logs, client selections, etc.
2. As a long time Beachwood Canyon resident who has done a lot of work up here, what challenges does building in the hills present and how do you approach those challenges?
Hillside construction and narrow streets can provide some challenges, but one of the keys for us, is to try and have everything (all windows, doors, tiles, plumbing fixtures, etc.) onsite BEFORE we begin demo and construction. We like to minimize, as best we can, the amount of time that we are disrupting someone's life and home with construction. Most people are eager to start by demoing right away, but I have found its best to wait, have all the materials onsite and then go straight through, without any delays caused by waiting for materials that were supposed to be delivered by a certain date, but got delayed for one unforeseen circumstance or another. It's important to keep momentum and focus going.
3. How do you deal with frequently changing City codes and regulations? And along those lines, when a client hires you to, for example, renovate a bathroom, how long typically between that phone call and when you're able to start work?
One of the things that I love about remodeling, is that each job is different, and that keeps us on our toes. I tend to geek out on different trade publications–that discuss the latest tools and trends, and then constantly having projects under construction keeps me in contact with different building Inspectors. Both of which help keep me current with the latest design trends and codes. It's fun to keep learning and growing.
4. You've done projects ranging from a minor remodel to a ground-up build; are there any particular projects that fit into your wheelhouse?
Our main focus is to be of service to our client …whatever that may be. Lately, that seem to be restoration work. That is, coming in after some interior water damage has occurred and restoring hardwood flooring, cabinetry, specialty finishes, electrical upgrades, windows and doors. We have worked on projects that were as little as $2,500 up to about $600,000. Whatever the client needs.
5. What are a couple of things most people don't know, and/or common mistakes people make, when hiring a contractor for a job?
One common misconception is that smaller jobs don't need a permit. You need permit for small jobs like changing out a light fixture or changing a toilet. And, if you are doing work that is valued over $500, you need a contractor's license! But, the biggest thing that people should know, is that no contractor can ask for more than $1,000 or 10% of the value of a project up front. I hate hearing stories about people giving thousands of dollars to someone, who is usually unlicensed and then that person disappears or does shoddy, dangerous work.
6. What do you and your family love about living in the hills?
We love being in the middle of the city–easy access to the valley and downtown but feeling like we are in the middle of nature…how quiet it is in the hills. We love the views and we love our neighbors.
Click
here
to see a gallery of projects and great before and after photos.