Hamburgers may very well be the quintessential food of Southern California. The combination of ground beef and bun is so deeply entrenched in Los Angeles' dining culture that there's always a new creation to taste in and around the city. From the smash burgers at Love Hour and Burgers Never Say Die to the vegan contenders at Honeybee and Burgerlords, there's much to celebrate in the city's dynamic burger scene. Here now are the 10 newest hamburgers to try in Los Angeles.
Removed: Petit Trois Le Valley, Electric Owl, Severance, Easy's, Monty's Good Burger, Here's Looking At You, fundamental DTLA, Cassell's Hamburgers DTLA, HiHo Cheeseburger, Free Play
Added: Love Hour, Burgerlords Highland Park, Honeybee Burger, Five Leaves, The Restaurant at Arts District Firehouse Hotel, Buddy's, Burgers Never Say Die, The Window at American Beauty, Goldburger, Mister O's.
Note: Restaurants on this
map
are listed geographically.
1. The Window at American Beauty
The Window offers an unbeatably priced $3.95 cheeseburger—$5.95 for a double or $7.95 for an Impossible Meat version. It's pretty hard to pull off a sub-$8 menu in expensive Venice, let alone on Rose Avenue, but the team is keeping costs low with its service model, only offering a few seats in the parking lot for diners.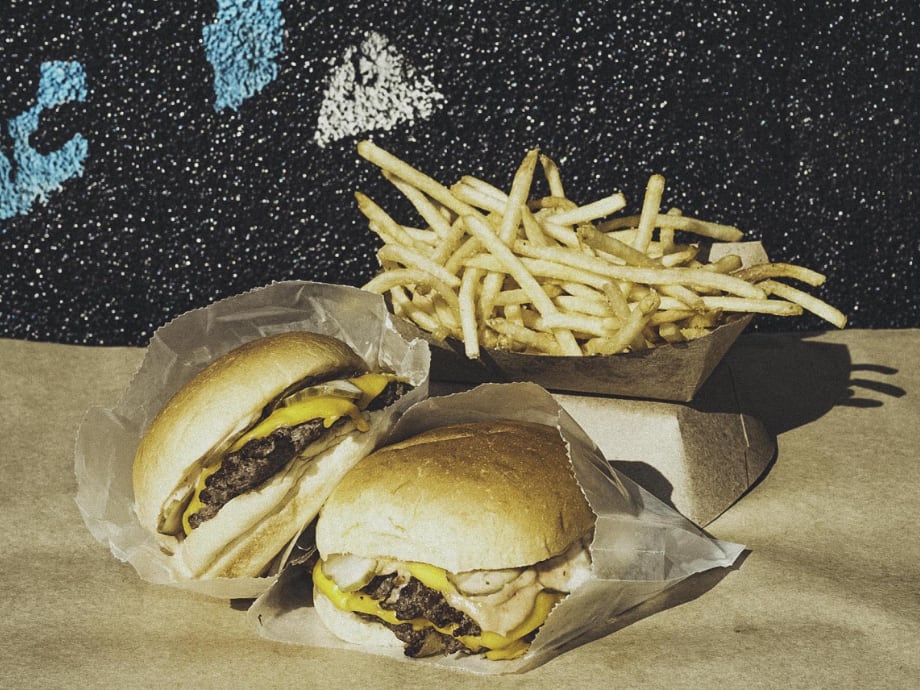 2. Mister O's
11838 Ventura Blvd, Studio City, CA 91604,
(818) 358-3839
, Visit Website
Mister O's keeps it simple with its signature burger. Piled atop the plush potato bun are crowd-pleasing things like grilled green onions, American cheese, and pickled Fresno chilies.
3. Love Hour
3515 Wilshire Blvd, Los Angeles, CA 90010,
(213) 381-7411
, Visit Website
Love Hour is one of the newest players in the city's pop-up smash burger scene, making appearances at Smorgasburg on Sundays and even The Line Hotel in Koreatown. The super-simple menu is comprised of single and double patty smash burgers and fries.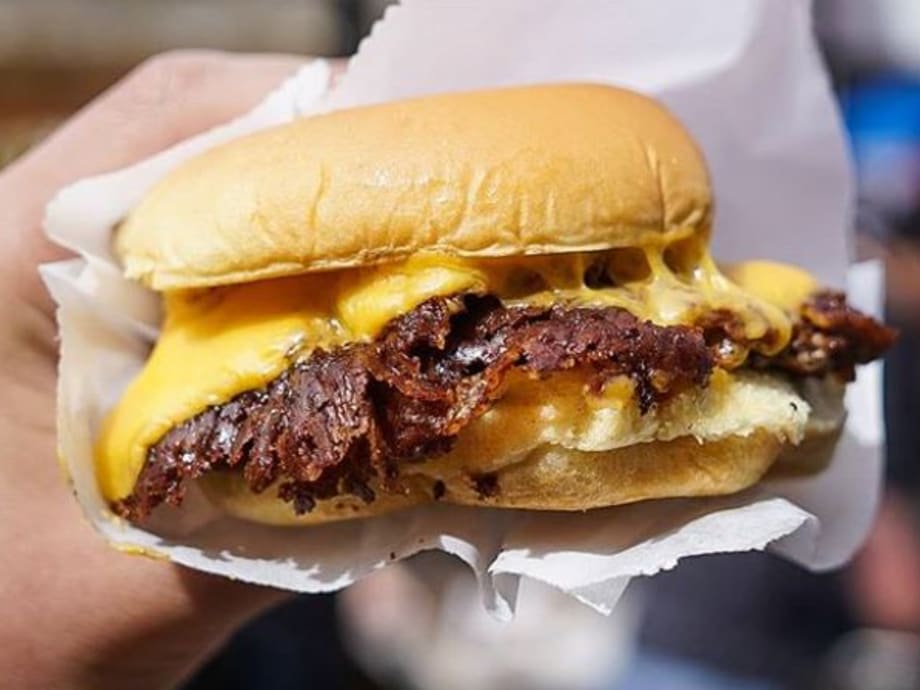 4. Five Leaves
4845 Fountain Ave, Los Angeles, CA 90029, Visit Website
The Brooklyn-based daytime cafe, afternoon cocktail spot, and dinnertime charmer has arrived in East Hollywood. Chef Warren Baird oversees the all-day menu, which includes the Five Leaves burger made of grass-fed beef, grilled pineapple, pickled beets, and a fried egg, all on sesame brioche.
5. Honeybee Burger
1820 N Vermont Ave, Los Angeles, CA 90027,
(323) 452-6500
, Visit Website
Honeybee takes up residence on the busy Vermont block, right next door to Tacos Tu Madre in the former WKNDR space. The all-plant menu includes hamburgers, sweet potato fries and tots, and sweet options like shakes and soft serve.
6. Burgers Never Say Die
2388 Glendale Blvd #A, Los Angeles, CA 90039,
(323) 922-6161
, Visit Website
Now that Shawn Nee has moved his backyard flattop to an actual restaurant at the edge of Silver Lake, fans of his smash burgers can get a fix anytime a craving hits. Best of all, there's CVT soft serve for dessert.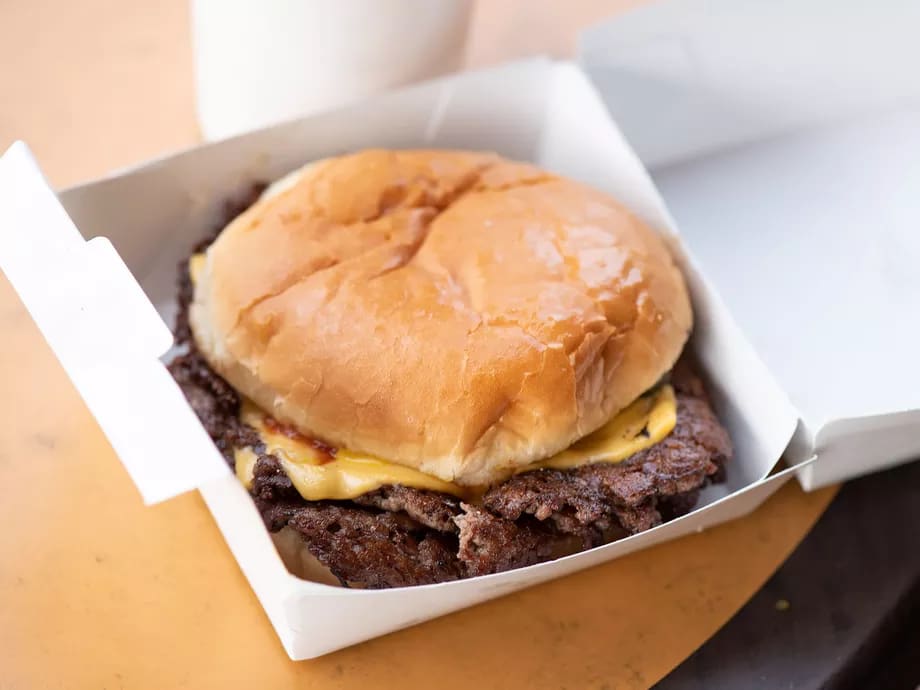 7. Buddy's
Located on the corner of 4th and Broadway, Buddy's is serving up everything from burgers to fried chicken sandwiches to smashed garlic grilled cheeses and housemade pie for under $10. The $7 cheeseburger with lettuce, tomato, onion, mustard, and American cheese is the thing to get.
8. Goldburger
777 S Alameda St, Los Angeles, CA 90021, Visit Website
It's tough to track down Goldburger, but those who persevere are rewarded with awesomely smashed cheeseburgers charred and melted just right. Catch the pop-up on Sundays at Smorgasburg and on Fridays at Tabula Rasa Bar on Hollywood Boulevard.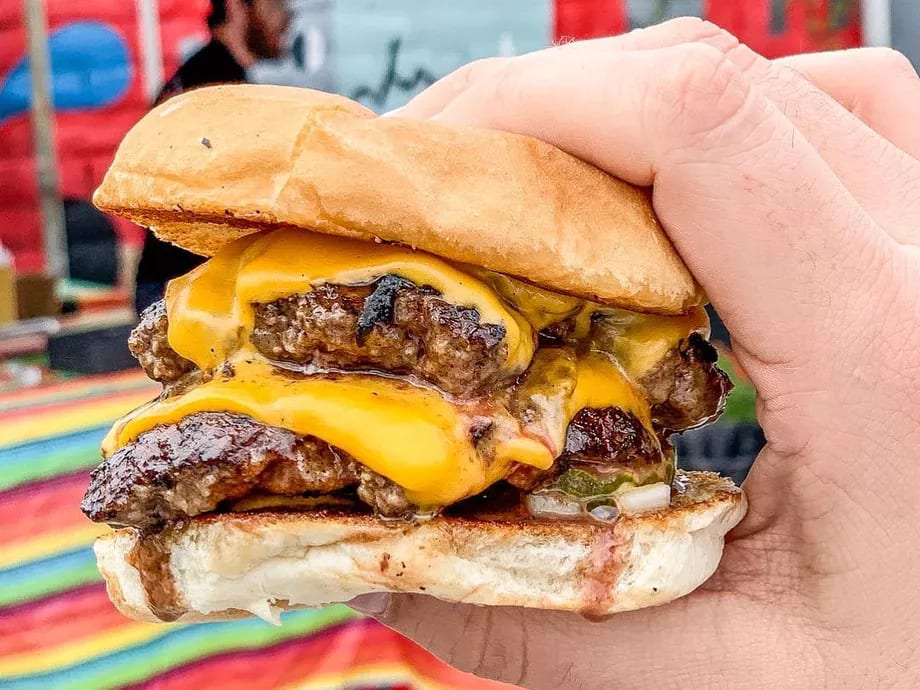 9. The Restaurant at Arts District Firehouse Hotel
710 S Santa Fe Ave, Los Angeles, CA 90021,
(213) 947-3010
, Visit Website
The shiniest burger on the Arts District block comes from Ashley Abodeely, formerly of NoMad LA and Eleven Madison Park in NYC. Hot off the wood-burning grill, the Firehouse burger comes piled high with smoked onions, spicy mayo, and plenty of cheddar.
10. Burgerlords
110 N Ave 56, Los Angeles, CA 90042, Visit Website
Taking over the former Good Girl Dinette space in Highland Park is Burgerlords, the Chinatown burger shack that's been winning over carnivores and herbivores alike. The dairy-free shakes made of Soom Tahini are just the thing to wash it all down.