Cover photo by Brittany Ambridge
FORM Design Studio is the collaboration of Emmy award winning designer, Joshua Rose, and Chinese medical practitioner, Rafael Kalichstein. Joshua's years in visual effects and production design for film and television offer a unique and unparalleled perspective in the field of design. Rafael has had a nearly twenty-year journey in the world of Eastern healing and later became a certified practitioner of Black Hat Feng Shui, which practice he integrates into his design work.
1) You both have such different backgrounds. How did you marry those different experiences into such an amazing design studio?

Certainly, we all bring our collective experiences to the endeavors we pursue. As it happens, while neither of our previous experiences might seem a direct precursor to careers in design, it would be inaccurate to say that we don't use all of our skills every day in our practice. As our firm's approach originates from a holistic perspective--focusing as much on the experience of or feeling around design as on a particular aesthetic--we always consider more than just the "look" of the finished product, so there are a lot of elements to consider. In some ways, the creative aspect of design is a problem-solving exercise; the execution of design is a business, not entirely dissimilar to production; the client facing aspect of design requires diagnosis and interpersonal skills. Successfully and responsibly running a business and managing a team requires yet a whole different set of skills. We owe our continued success to our backgrounds, in fact. The diversity among our experiences is what has made us such a strong partnership.

2) Do you, individually, handle different aspects of a design project, or do you both tackle everything from A to Z?


We work as a team (not only the two of us, but with our employees, as well). Yes, we lean more heavily on each of our individual particular skills, but it is very much a millinery over here--we are all wearing lots of hats. Being able to rely on the whole team for any aspect of a project allows us to balance projects as they move through typical phases and helps us keep our team lean.

3) I'm sure this varies by client and project, but how much of the time does the client give you a vision to execute vs provide a blank canvass and ask you to provide the vision?


You're right--it does, very much--vary by project. Having said that, we have developed, over many years, a reputation for bringing exceptional creativity and artistry to our projects. One of our primary design tenets, by which we have always operated, is that spaces speak; for a design to be successful, the designer has to listen. What never changes is that we take the responsibility of listening very seriously. All projects have parameters and it is those parameters that drive the creative process, so we rely on them to give us direction and bearing as we balance the voices of the site, the architecture, and the client to come to an understanding of what the space wants to be. In many ways, it is like sculpting with space.


4) From where do you get your inspiration in general, and how do you blend that with the specific circumstances of a project - the location, the architecture, unique traits of the property owner? For example I know in your fantastic Santa Ynez project the owner had specific art she wanted incorporated into the design, so your choices had to complement that.


In very large part, travel and the perspective it brings fuel our inspiration. We have drawn from our collective (and extremely privileged) opportunities to see more than what is in our immediate geographic bubble. Culture, history, art, literature--all of these things fuel our creative fires. We are also learners by nature. We rarely approach a new place or situation from an observational position only. Further, use and intention are enormously meaningful in the process (our firm handles not only residential, but restaurant, commercial, and boutique hospitality projects).

In the case of our Santa Ynez project, indeed, the clients' collection played a big role in the development of the interior architecture. Celebrating a collection of works by notable female contemporary artists was an honor. We were not afraid of the tension between the artwork and the site context; rather, we embraced that tension in the design.

5) You've done projects all over Southern California, but also other locations including Austin and Miami. Does bringing your talents to other states light your fire even more - to bring your aesthetic to a completely different climate (literally and figuratively) and have it play there?


Indeed. We work all over the country. To date, aside from our work in CA, we have completed projects in Miami, FL; NYC; Greenwich, Ct; Waitsfield, VT; and Austin, TX, and are nearing completion on a lakefront property in Michigan. Working in different environments is invigorating and exciting as culture and site context weigh so heavily in our process.


6) Covid has obviously changed literally everything; but here in the US it's put such a huge emphasis on our homes/living spaces. It's fueled a surge in the real estate market but also caused us to take a discerning look at how we use our space - both interior and exterior. I'm sure this is still evolving, but how has the pandemic and the way we look at our homes impacted your design choices?


We can look at the word "design," itself, holistically. If we do that, we can see how every choice we make is part of the lives we design (for ourselves), so the process of design is dynamic and evolving, constantly. The pandemic will have caused all kinds of shifts to the way in which we all make choices, certainly.
If we are speaking more practically about design as an industry or design as a practice, we don't yet have a clear picture of all the ways in which the industry (or our practice) will adapt, but we have already seen a change in hospitality, commercial, and restaurant design sectors. Residentially, people are focused on function, first (a prioritization that was made famous by Louis Sullivan when he said that "form follows function"). What is most exciting is the possibility to create function from an ever-expanding palette of materials and technologies, which allow for problem solving to evolve and grow. While there are, thankfully, not so many seed-bank or bunker conversations happening among our residential clients, we are working with clients to make their homes better suited to at-home life, considering multi-purpose rooms, multiple work/office areas for parents and children, outdoor spaces, gyms, extra pantry space and amenities as among the top priorities.

7) Talk about the relationships and collaborations you have with furniture and accessory designers and how you're able to put them to use in your projects.


Historically, we have designed a lot of custom furniture for our projects--it's part of our firm's DNA. It was a logical progression to move that into licensing--designing product that is produced with manufacturers and vendors. Currently, we have collections with Global Views (this is a total home collection of sofas, case goods, accessories, and lighting, which is ever-evolving, manufactured in Italy, India, Poland, and Vietnam), Mehraban Rugs (artisanal rugs in wool and silk, hand-knotted or hand-woven in Nepal and India), LeftBank Art (a southern CA company that produces, to order, reproductions of original artworks we make in our studio), and Dempsey & Carroll (a collection of luxury paper goods for the country's longest-continuously-running stationer). It is a thrill to have the opportunity to partner with industry titans who are able to realize our designs in magnificent and expert ways; it is a further joy to place those creations in our projects. At the end of the day, what motivates and enthralls us is the intangible connectivity of design--the knowledge that life happens in and around creations from our imaginations. That is a magical reward.
8) It feels like we are at the light at the end of the tunnel on the pandemic; while of course its scars will live permanently, what silver linings did you experience during the pandemic?


The salient reminder that each moment is precious. More time (than we ever would have had) with our daughter, a Marlborough sophomore--that is a silver lining. The opportunity to focus inward and redefine and redistribute priorities--that is a gift on a personal level. Having said that, we can't help but feel our privilege at being able to answer this question; a silver lining may be the awareness of our privilege in a new way. Oh, and, of course, that we've finished loads of puzzles that we had been hoarding for a "rainy day."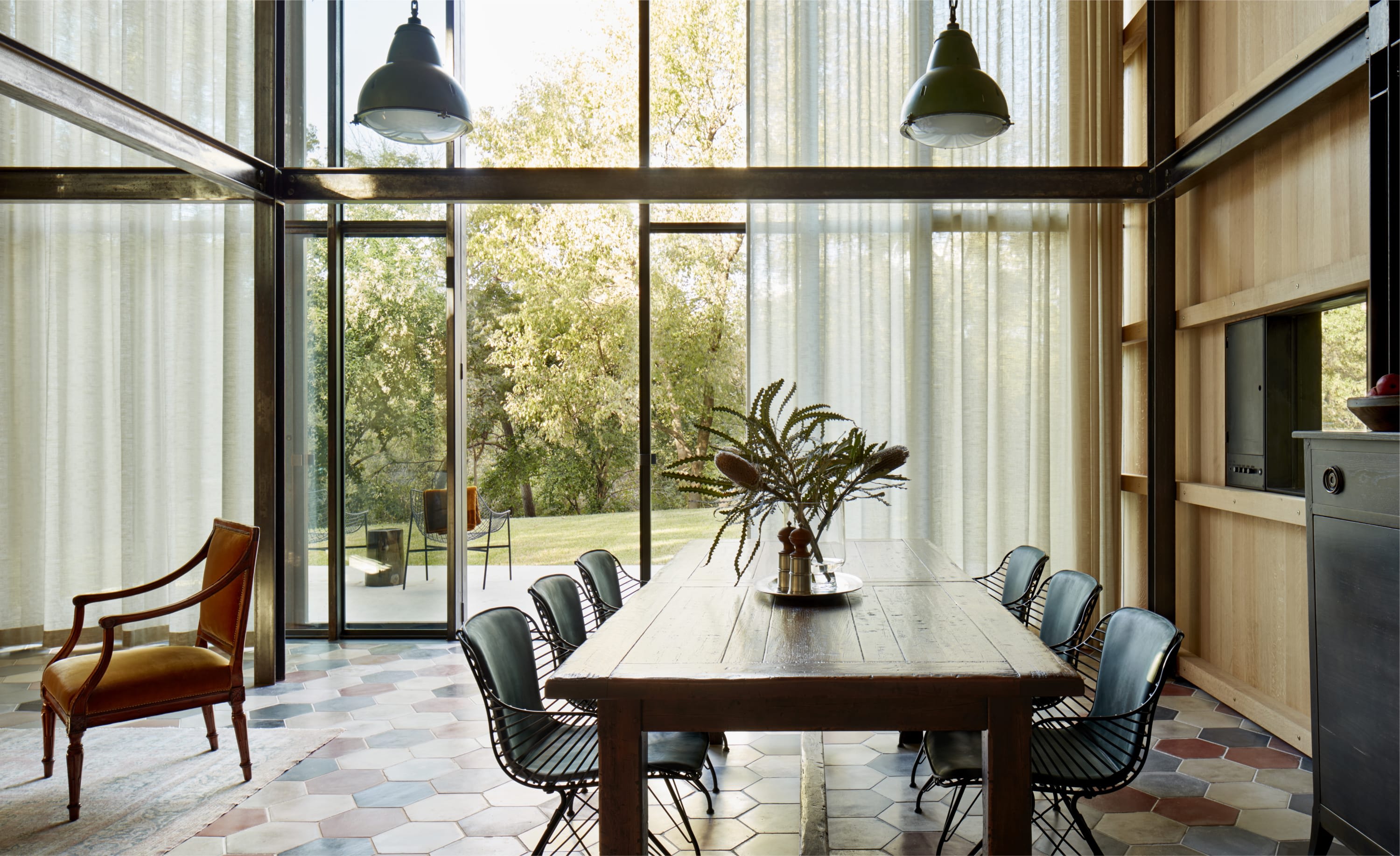 Photo by Nathan Kirkman.