Q&A with Alexander E. Weber, MD
Orthopaedic Surgeon & Sports Medicine Specialist
AlexWeberMD.com
Dr. Alexander Weber is a specialist in the field of orthopaedic surgery and sports medicine at USC. He is also an Assistant Professor in the Department of Orthopaedic Surgery Section of Sports Medicine at the USC Keck School of Medicine, and is the Team Physician for the LA Kings and SC Athletics.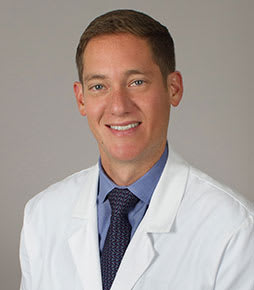 During what point in your life did you decide you wanted to be an orthopedic surgeon and particularly, with an emphasis on treating athletes?
I was fortunate to know that I wanted to be a sports medicine orthopaedic surgeon from a young age. Growing up I played a lot of volleyball and was lucky enough to play in the Olympic pipeline for a short period of time. During a summer session at the Olympic Training Center in Colorado Springs, I was introduced to the idea of an orthopaedic surgeon team physician and I thought it was a pretty cool idea. I always joke that after that summer everyone else on our junior olympic roster kept growing in height and I didn't, so I wasn't invited back the following summer. Instead of playing volleyball that summer, I shadowed an orthopaedic surgeon in my hometown, Albany NY, and the rest is history!
What is one thing you'd characterize as a common misperception among your patients regarding surgery - or to put it another way - is there an element about the process that people tend to find surprising?
This is a great question! One thing that is often surprising to patients is that we can now do the vast majority of shoulder, elbow, hip, and knee surgeries in such a way that patients no longer need to take narcotic/opioid pain medications following the surgery. There have been major improvements in how anesthesiologists administer nerve blocks and nerve catheters at the time of surgery. These blocks and catheters can provide complete pain relief for up to 3 days after surgery. Additionally, our surgical techniques have improved to the point that we are very careful with the tissues and afterward patients largely don't require strong pain medications. These changes have been revolutionary for what we can do!
Talk about your experience as an Assistant Professor of Sports Medicine in the USC Department of Orthopedic Surgery, and your role in helping USC athletes stay on the field/court and/or get back to it as quickly as possible.
Being a team physician for the USC Trojans and LA Kings is one of the highlights of the job. I love the challenge of working with high-level athletes. Collegiate and professional athletes push the upper limits of what the human body is capable of and when they get injured the stakes are incredibly high to get them back to their peak level of performance. In our world, there is no greater challenge than getting these athletes back to peak performance. I'd also say that one of the highlights of what I do is being able to apply the tools used in our high-level athletes into the care of ALL the patients I see in the office. Whether you are a high school athlete, a weekend warrior, or a once-a-year hiker, I am going to treat you like I treat our high-level athletes.
How much pressure do you feel from coaches, if any, to get athletes medically cleared? Or is that something that once an athlete is in that circumstance, the coaches leave it entirely to you?
We all hear stories of colleagues getting pressure from the coaching staff. I am incredibly fortunate to not have that experience at USC or with the LA Kings organization. In both realms we have amazingly supportive and professional coaches. Everyone is working toward the same goal - get the athlete back on the field of play as soon as safely possible.
How has the pandemic affected your practice and the way you operate (figuratively and literally)?
We have been incredibly fortunate to have been largely unaffected by the pandemic. This is a real testament to USC's fast thinking, ability to adapt, and desire to prioritize patient safety. We have put safety measures in place to keep both the operating room and office safe places. I have heard time and time again from patients how appreciative they are of these facts because the pandemic has actually been a very good time for working adults to have surgery (work from home lends well to recovery). Additionally, the pandemic has been a good time for injured athletes to have surgery, recover and get well without missing a ton of competitive time.
I notice on your Instagram account that you like to post videos of athletes (both high level and weekend warriors) you've operated on getting back on the road to recovery - how much gratification do you get from helping people get back to doing what they love?
I love my job... truly love what I do. There is nothing more gratifying than helping someone get back to the activity or activities they love to do. For example, for the patient who previously enjoyed x, y, or z activity and sustains an injury or has a nagging problem. To be able to offer that person appropriate nonoperative and operative treatment options (physical therapy and rehab, injections, or surgery) and then watch them get back to their desired activities -- there really is nothing better!
How much has technology impacted your profession since you were in medical school, and what advancements do you see on the horizon?
Technology and advancements in technology is a huge part of what we do. Surgical technology has improved tremendously to the point that I think we are in a really good position in terms of surgical technique. The area that is currently evolving and will continue to do so is in the biology of healing. Whether it's an anterior cruciate ligament tear in a high school athlete or a rotator cuff tear in a weekend warrior, the reasons patients run into trouble is that the biology of healing is slow or fails. Current ongoing research we are conducting at USC is looking at how we improve the biology of healing these injuries. We have stem cell and other "orthobiologic" options we can now offer to help speed or improve the healing process. There are great things on the horizon for non-surgical stem cell treatments and I am proud to say we are in the thick of it in terms of innovation at USC.
Your family has planted roots in Hancock Park, what do you love about the neighborhood?
Both my wife, Ellen, and I are from the East Coast. We have both spent time living and working in NYC and we love the walkability of Hancock Park and Larchmont Village. For us, there is something special about Hancock Park. The neighborhood is quiet and friendly, but a stone's throw from the hustle of Melrose with its fantastic restaurants. Also, for me, I am running all over the city for work and athletic events and Hancock Park has made for a great central home base. We have only been in LA for 5 years, but I don't anticipate us leaving the neighborhood or LA any time soon!