Dake Wilson Architects is a design studio focused on creating thoughtful experiences. Their work ranges in size and type from small residential remodels, to storefront build-outs, to commercial office renovations. Striving to weave sustainable design seamlessly into all their projects, DWA thrives on collaboration and experimentation to make our common, everyday places unique and exciting.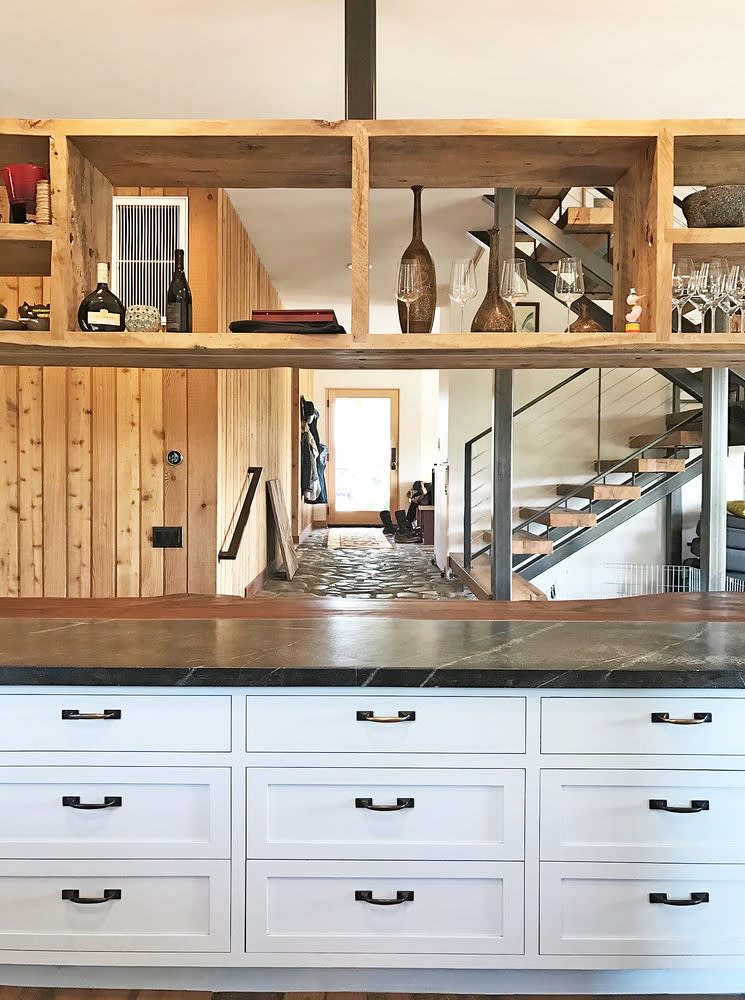 Q: Your firm Dake Wilson has an impressive portfolio of projects ranging from residential to storefront to commercial office space. Is there a common theme or inspiration source you tap into in working on such a variety of projects?

A: The tools we use most to determine the direction of a project are our ears and eyes. We listen to the client, and engage with the surroundings. Dake Wilson Architects has a clean, modern sensibility, and we like using ordinary materials in new found ways: asphalt shingles might be siding, and roll up doors might go into living spaces for California indoor-outdoor living. We always keep sustainability in mind and weave it into our projects. Los Angeles has always been a testing ground for innovative design in unexpected places so it's a privilege to work in such an inspirational environment.

Q: I notice some of your residential work is in the Hollywood Hills; how do you balance your design concepts with engineering needs on hillside properties, and how much are you able to factor engineering into your process?

A: From the beginning we work with engineers to site projects into hillsides, preferring that to just flattening and retaining a site and then building on top. This helps integrate a modern project into the settings of our well developed hillsides. Current engineering techniques and economic forces have made it possible to build on areas that were previously unfeasible. But just because you can build in a certain area doesn't necessarily mean you should. So we try to make sure the project makes sense from multiple perspectives.
Q: I've heard from numerous architects that an architecture degree is really a degree in problem solving. Can you elaborate on that, and also talk about the role you think architecture plays in cities like Los Angeles, as they deal with new challenges and pressures?
A: So true. It is often said that architecture is the perfect combination of art and science (engineering). However lately it is increasingly important to be in touch with local social, economic and political forces and be savvy enough to navigate the complex hurdles of agency approvals. As housing demands continue to shape our city, it is the perfect time for architects to step forward to help solve the tough problems that are facing our city.
Right now we're really excited about Accessory Dwelling Units - ADUs - otherwise known as Granny Flats. Two of our Oaks neighbors on our block have them under construction right now. Considering the huge proportion of Los Angeles that is dedicated to single family housing, densifying those sites with ADU's is one way we're going to solve our housing crisis. Our office has eight ADUs under various stages of development, and we are referring as many as possible to the non-profit organization LA-Más, whose Board Renee is on. LA-Más is administering programs for the City and County where they will give grants or low cost loans to design and build ADUs to house people with Section 8 vouchers or the unhoused for a period of years, and the homeowner gets the property improvement. The State legislature has been really progressive on this. Just passed legislation will allow for an ADU and a Junior ADU on some properties, within the same mass as a single family home.
Q: How is climate change impacting your projects today, and how do you envision that impact evolving going forward?

The Oaks is in a very climate sensitive environment, particularly related to wildfire danger. As we have hotter, dryer weather, the risk of fire running through our residences is substantial. The building code is very specific on construction requirements to prevent fire intrusion in new construction. Our Oaks neighbors need to look at our existing housing stock for liabilities. This could be reducing flammable materials on houses, detailing houses to not allow sparks into vents, and changing landscape design and keeping on top of maintenance. We look at Mother Nature for inspiration. She sets the precedents on what will and should grow in certain areas- natives!
California leads the way in regulations that will lower our residential carbon footprint. Beginning January 2020 Solar systems will be mandatory for residential projects. Energy and water saving techniques continue to get cheaper are no longer an economic barrier to creating more sustainable building solutions.
Q: What's it like being business partners with your spouse?!

A: We had practice working together for other architects when we met and married in Aspen, CO. We have similar skills, but different approaches, so we always have each other to bounce ideas off of. We started working together right as our first child was born 17 years ago, and it has allowed for our work to be flexible for our family's needs. Our kids know a lot about architecture and planning, as it invades our dinner table conversation regularly. They're pretty savvy with design and building themselves, so we'll see how they use it as adults.

Q: What do you love about living in the Oaks?

A: Our family of five are all avid runners, bikers and dog lovers, so we relish having the incredible Griffith Park in our back yard. We strive to make it a hospitable place for those in Los Angeles who aren't as fortunate to have our proximity to nature, and for those who are visiting LA's iconic attractions.
A couple of years ago we joined several Oaks neighbors in hosting urban forestry students from Berlin through LA's Sister Cities program. The students planted and maintained several habitats in Griffith Park so very different from their home environment, including the Berlin Forest near the Observatory, one of many exchanges of ideas and information we were all exposed to during their stay. We are so fortunate to have such an amazing neighborhood to share.