Welcome to our monthly spotlight on local businesses and residents. This month we are featuring Mathew Cape, co-founder of Le Petit Marché.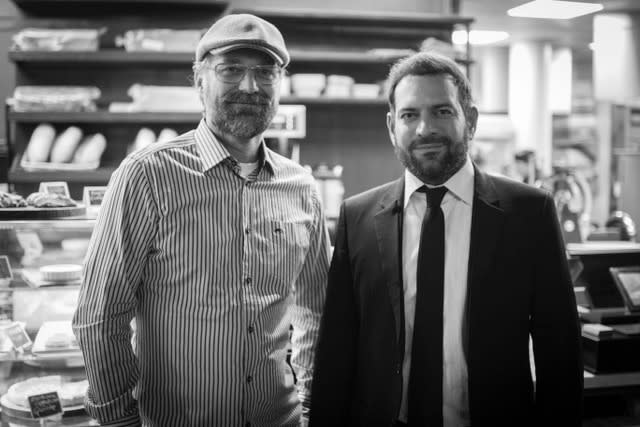 Source

Le Petit Marché (LPM) combines the neighborhood restaurant, bar, and marketplace to create a unique sense of community and a place to come together for une petite pause to enjoy delicious, seasonal, French-inspired food and drinks with friends. Can you share with us how you came up with the concept?
I believe Los Angeles lacked this kind of casual all-day neighborhood hang out. The idea began to germinate when I was hosting a dinner party several years back. I realized that I had to go to several different places to get the best meat, cheese, wine, pastries, etc. It was then that I had the idea to open a restaurant that also had a gourmet market that offered all the best food artisans in Los Angeles under one roof. So that is precisely what we did.
There is something for everyone. It is very friendly to families and kids, customers use the restaurant as a workplace or for business meetings, and it is also romantic enough if you want to bring a date and enjoy high-quality French cuisine. The idea was to have a high-quality market with a big bar as the centerpiece and also include a comfortable all-day restaurant. The fact that the construction took so long allowed us to curate our team and the artisans that partnered with us to perfection. The result of all of these top food artisans in one place has been a dream realized for me, and I am thrilled to be able to share it with the community.

Your French-inspired cuisine is classic and refined yet approachable and reimagined. Chef Stephane Liot has created dishes that highlight the multi-cultural influences of his travels while always keeping his native France at the forefront. Can you share with us one dish that exemplifies this French-inspired multi-cultural approach?
The Périgourdine salad with endives, duck confit, bacon bits, piwi potatoes and a poached egg on top is a modern take on a French classic and also my favorite. However, I would say the LPM burger is the most multi-cultural dish as it combines the California burger with brioche buns and Gwen's high-quality meat and the French influence with the Raclette mountain cheese and frisée and a Latin American touch with our secret green sauce that uses cilantro and jalapeños among other secrets. It is absolutely delicious.

You are an "All Day Eatery" and new customers are raving about the food – please tell us what you'd have for breakfast, lunch, dinner and dessert!
For breakfast, I would have Le Matinal breakfast sandwich. It is composed of a fried egg, bacon, melted sharp cheddar, frisée and a tomato jam on a brioche bun. For lunch the Poulet Piri Piri which is a Portuguese take on roasted chicken with spices from our chef. It's original and delicious. For dinner, I would have the French onion soup and the steak frites with either the ribeye or New York steak, depending on my mood. Can't go wrong with Gwen's meat and our bordelaise sauce is the best I have had in LA. For dessert, I would have a Crêpe Suzette or the crème brûlée. Who doesn't love a good crème brûlée? I also have to say I can have the croque madame for breakfast, lunch and dinner.. and maybe for dessert!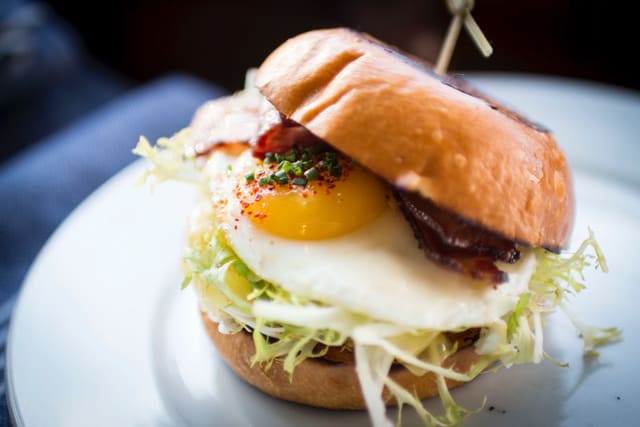 Why did you choose Larchmont Village, and what lies ahead for
Le Petit Marché?


I chose Larchmont Village because when I was on the patio of The Larchmont looking across the street at this new development, I knew that this corner would be ideal. Running The Larchmont for nearly five years, I also came to understand what the neighborhood needed. When I discussed my ideas with our favorite customers, the response was so positive that it only made sense to do it. The problem is, after that every day I would get the question: "So when are you opening? We can't wait."
It took four years from the conceptualization to the opening. It was a long bumpy road, but it was all worth it seeing all the smiles every day at the restaurant. There is nothing like this in the neighborhood, and I believe that by continually staying current with our customers' needs we will be hanging with them for a while. We are starting our deliveries, and we will be able to deliver food, beer, wine, and our grocery items directly to your door. We do have plans of bringing this concept to other neighborhoods as everyone should have a Petit Marché in their community.
Merci et à bientôt au Petit Marché.