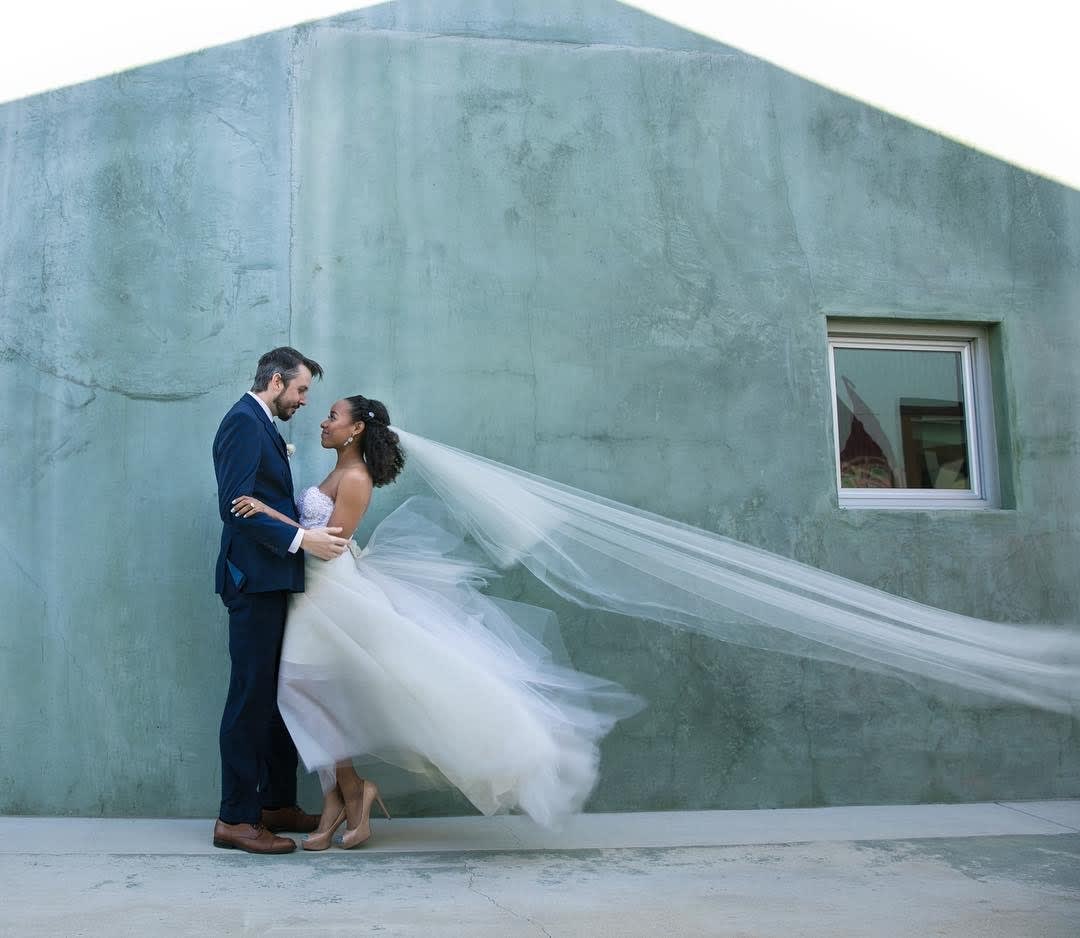 1. At one point in your life did you realize you wanted to be a fashion designer, and how did you pursue your career?
I loved sketching fanciful dresses with an almost costume-like quality since I was very young. Proof was a sketchbook my mother found from my childhood. I had taken lined school paper, stapled it together and filled it with gown drawings all done in crayon. It was titled "My Designs." This must have been from early elementary school days. In middle school, I was introduced to a sewing class in Home Economics which I loved! Rather than make the one assigned sewing project, I made an entire wardrobe. At 16, I was hired by a local bridal shop as a sales consultant. The owner of the boutique was an FIDM graduate. She soon discovered that I could make bridal hats, veils as well as help her with hand beading. I discovered how much I loved working with brides on such a monumental occasion. There was purpose and meaning with this form of fashion. It was more than an ordinary garment and something that would be treasured always and potentially handed down to future generations. Once I obtained my business degree from college, I felt free to pursue my passion. I signed up for fashion design classes at Otis School of Design in Los Angeles. I soon discovered that I had more experience than my fellow students, so I left to pursue my path in fashion. After working in a couple of bridal salons in Beverly Hills, I ventured off to open my own boutique. I landed on Melrose Avenue in West Hollywood and opened Cupid's Garden Bridal Boutique. My adventure in custom designed bridal and evening gowns began.

2. Your wedding dresses have been worn by such luminaries as Raquel Welch, Liv Tyler, Jennifer Garner and Kelly Wearstler. What does it mean to a designer to have their creation worn by such influential celebrities?
It is an honor to be selected by these women and all women for such a special garment, their wedding dresses (whether for their real weddings or for film), because they are exposed to the greatest designers in the world. These women are showered with gifts of dresses by these other designers so when they come to me specifically to commission a unique piece, it is a great compliment. They understand that I will create a beautiful piece of great quality that is unique to who they are.

3. I think when I got married I arranged a rental tuxedo a few days before the wedding! What's the process like for the bride in procuring a Cocoe Voci bridal gown?
Customarily, a bride reaches out to me when she realizes that she is not meant to wear a mass-produced gown. She wants her wedding dress to be truly special and unique to her only. The process begins with a conversation to determine if we are a fit to work together. Then the collaboration begins. This happens anywhere from 6 months to a year in advance of the wedding date. I probe into what she is imagining for herself. I learn about her venue, style and mood of the event the couple is embarking upon. It is important that her dress is perfect for the type of wedding she is having as well as fit her figure and style perfectly. Once I have designed the dress and we have selected the fabrics and ornamentation, her figure is measured so that a muslin pattern may be made precisely for her. This is fit to her figure and once we are pleased with this process, my team of artisans embark on the making of the actual gown. There are a couple of fittings after this point which include placement of ornamentation if applicable.

4. Your husband Steven is an accomplished culinarian, your son a young entrepreneur and your daughter is an immensely talented artist in her own right. Is there something in the water at the Voci house?
We are a passionate family! Thanks to Steven's talent in the kitchen, our home is filled with great homemade food and complemented with conversations of how we can contribute to our world whether in the form of new business ventures, ideas of how we can do our part to improve the environment to how we can help make this world more beautiful. Our son Vaughn, a senior at Loyola High School, has started a new business, FROST Los Angeles (frost-la.com), which offers cool fashion with graphics he has personally designed. A percentage of the proceeds from his sales are donated to charities that help improve our oceans. Our daughter Lila attends the L.A. High School for the Arts and continues to amaze me with her works of art which are created in a variety of media. There is never a dull moment at the Voci residence!

5. You also create beautiful gowns for young ladies in a different phase of their life–first communion. Talk about the joy you get in creating the first formal gown for such an important occasion.
I absolutely adore doing this! As you can tell, creating fashion for meaningful events is incredibly fulfilling. When I work with a young client, I enjoy explaining the dress making process in relation to the event. I share and teach about the technique and attention to detail that goes into their special piece. I love the questions I get and the look of joy as my tiny clients get fit and finally see the finished garment.

6. What do you and your family love about living in Hancock Park?
Hancock Park is quite unique. It is a beautiful flower pot in a huge city of endless concrete. I love the trees, the architecture and character of the homes. The detail of these period homes is unsurpassed. What I love most is the community of people. Our family has made many dear friends that we will all cherish for a lifetime.
Visit the Cocoe Voci Design website
here
.