Hancock Park August 2021
How Well Do You Know Southern California Architecture?
Just as Southern California is comprised of a melting pot of people from all over the globe, it is also home to a myriad of architectural styles. We've showcased 6 Southern California homes here. Can you name the style of each one?
1. Tudor Revival


The Greystone Mansion is a Tudor Revival on a landscaped estate with distinctive formal English gardens, located in Trousdale Estates in Beverly Hills. Tudor Revival architecture (also known as mock Tudor in the UK) first manifested itself in domestic architecture in the UK in the latter half of the 19th century. Based on revival of aspects that were perceived as Tudor architecture.The style later became an influence elsewhere, especially the British colonies.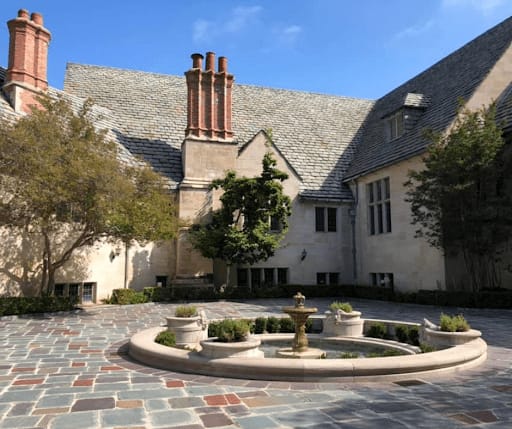 https://ladreaming.com/guidetola/how-to-visit-greystone-mansion-in-beverly-hills/
2. Mayan Revival


The Aline Barnsdall Hollyhock House in the East Hollywood neighborhood of Los Angeles was designed by Frank Lloyd Wright originally as a residence for oil heiress Aline Barnsdall (built, 1919–1921). Mayan Revival is a modern architectural style popular in the Americas during the 1920s and 1930s that drew inspiration from the architecture and iconography of pre-Columbian Mesoamerican cultures. It has an "introverted" exterior with windows that seem hidden from the outside, and is not easy to decode from the outside. The house is arranged around a central courtyard with one side open to form a kind of theatrical stage, and a complex system of split levels, steps and roof terraces around that courtyard. The design features exterior walls that are tilted back at 85 degrees, which helps provide a "Mayan" appearance.
https://www.laconservancy.org/locations/hollyhock-house
3. Beaux Arts


The Virginia Robinson Gardens is the earliest estate in Beverly Hills. The main house was designed in 1911 by architect Nathaniel Dryden (1849–1924) in a Beaux Arts style. The Renaissance Revival pool pavilion was built in 1924 and is modeled after the Villa Pisani in the Tuscan region. Decorative panels of sgraffito ornamentation adorn the Roman arches at the entry to the pavilion's solarium. The pavilion overlooks a long pool with mosaic tile wainscoting. The Beaux-Arts style of architecture is one of the most extravagant in American history. It was popular from 1880-1930. It drew upon the principles of French neoclassicism, but also incorporated Gothic and Renaissance elements, and used modern materials, such as iron and glass.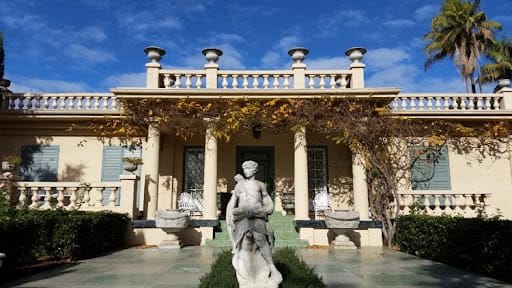 https://www.sunset.com/home-garden/landscaping/virginia-robinson-estate
4. Queen Anne Victorian


Hale House is a Queen Anne style Victorian mansion built in 1887 in the Highland Park section of northeast Los Angeles. It has been described as "the most photographed house in the entire city", and "the most elaborately decorated". The building is an outstanding example of Queen Anne and Eastlake styles. The exterior colors of Hale House were reproduced from chips of the original colors found on the house during restoration. The interior has been restored to represent the rooms as they may have appeared in 1899. In the front parlor visitors may see an oriental door bracket purchased by the Hales. Lighting fixtures throughout the house are equipped to use both gas and electricity. The wainscoting downstairs, called Lincrusta, is original to the house and made of a pressed paper mixture processed to look like embossed leather.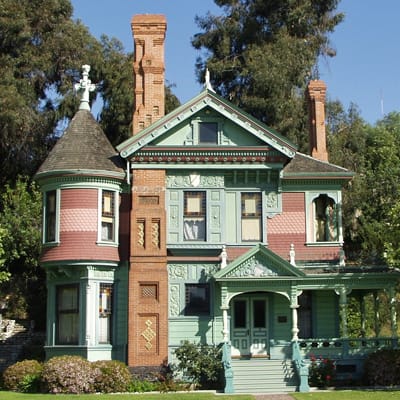 https://heritagesquare.org/about/tour#hale
5. Château
The Manor is a stunning piece of Château Style architecture in Los Angeles. The Château Style is a Revivalist architectural style based on the French Renaissance architecture of the monumental châteaux of the Loire Valley from the late fifteenth century to the early seventeenth century. The style frequently features buildings heavily ornamented by the elaborate towers, spires, and steeply-pitched roofs of sixteenth century châteaux, themselves influenced by late Gothic and Italian Renaissance architecture. Despite their French ornamentation, as a revival style, buildings in the châteauesque style do not attempt to completely emulate a French château. Châteauesque buildings are typically built on an asymmetrical plan, with a roof-line broken in several places and a facade composed of advancing and receding planes.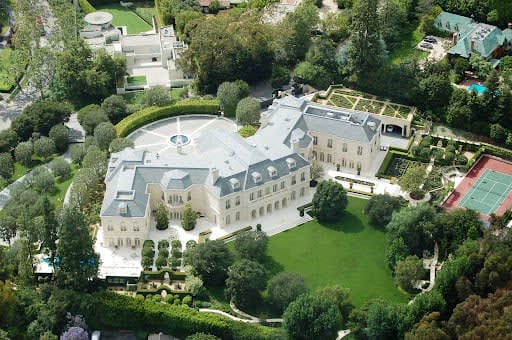 https://en.wikipedia.org/wiki/The_Manor_(Los_Angeles)
6 Tuscan
The 12,600-square-foot Tuscan-style mansion was designed by architect Robert D. Farquhar (1872–1967) in 1937, and was the largest house in Los Angeles when it was built. It has two stories, six bedrooms and two staff bedrooms, seven full bathrooms and five half-bathrooms, a tennis court, a pool house, a swimming pool, a theatre, and a full-size elevator. Typically constructed with limestone, travertine, or marble and terracotta roof tiles, Tuscan-style architecture blends classical architectural elements with modern touches to give today's homes an Old World Europe feeling. A key feature in Tuscan-style homes are their ability to seamlessly blend into their natural surroundings.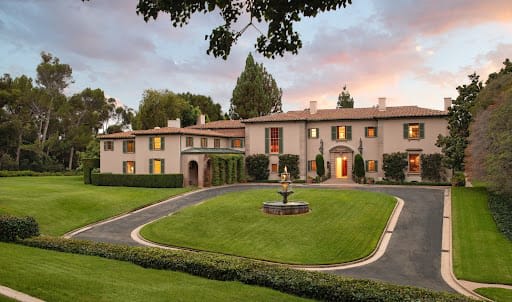 https://www.latimes.com/business/realestate/hot-property/la-fi-hotprop-owlwood-20180919-story.html