Light It Blue
Los Angeles Mayor Eric Garcetti
tweeted this photo
of City Hall in support of healthcare workers and everyone fighting on the front lines of the covid-19 crisis.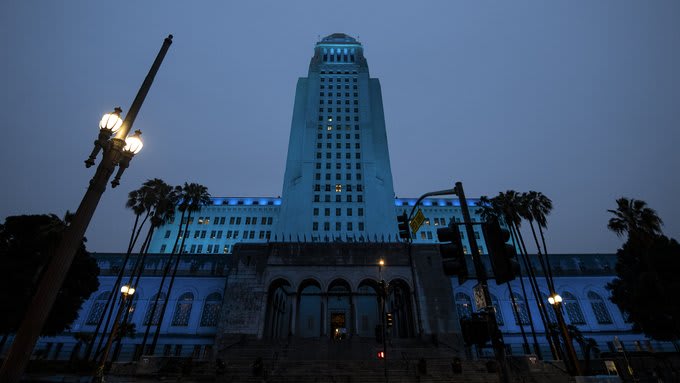 Los Angeles landmarks joined a nationwide effort Thursday night to "Light It Blue" in honor of health-care workers and others on the front lines of the coronavirus pandemic.

City Hall, Staples Center, the Santa Monica pier Ferris wheel and Los Angeles International Airport, among other local locations, were lit up with blue light at 8 p.m. as part of the worldwide #LightItBlue initiative.

The effort, which started in Britain, shows appreciation for workers not just in the health industry, but in grocery stores and other essential businesses that remain open during the pandemic.
Organizers hope to keep it going every Thursday.
Organizers wrote on
their website:
"The #LightItBlue campaign celebrates and honors all of our esteemed American heroes risking their lives on the frontlines of the pandemic to keep Americans everywhere healthy and safer at home. In the face of anxiety and uncertainty, this campaign will show a massive gesture of solidarity and support across the nation. The American people are standing together - even from 6 feet apart - to remain stronger than ever."
Los Angeles Each Night
While #LightItBlue is weekly, each night at 8pm, cheering, clapping and singing can be heard throughout LA as Angelenos applaud all the workers fighting on the front lines. Article below is from
LA Curbed
.
Nightly Applause Brings Angelenos to Their Windows and Balconies
Downtown LA's normally busy streets have been
eerily quiet
over the last few months. Lately though, its buildings have come briefly to life. That's when residents open windows and step out onto apartment balconies to join in a round of applause for healthcare workers fighting to contain the spread of the
novel coronavirus
. It's a ritual that's spreading quickly through neighborhoods in and around Los Angeles—from
Long Beach
to Silver Lake.
Nightly cheering, clapping, and singing helped residents of
Wuhan, China
weather a long lockdown when the virus broke out there. The practice has been taken up in cities around the world, and formalized as a salute to frontline medical staff. Downtown Los Angeles Neighborhood Council president Patti Berman says members of the neighborhood council were inspired by cheering taking place in
New York
and worked to get a similar ritual started in the Downtown area.
"There are so many people working at their own peril right now," she says. "The least we can do is say thank you." Through emails and social media posts, coordinated by outreach chair Marcus Lovingood, the neighborhood council last week began encouraging people to clap every night during the month of April. Berman says her apartment doesn't have windows to the street, so she can't participate in the applause, but she's been encouraged by videos of cheers circulating on social media. "It's gotten pretty loud," she says.
South Park resident Sara Eastwood has lived in her one-bedroom apartment for two years. She says the 8 p.m. applause has brought out neighbors she's never noticed.
"It's built more of a sense of community here," she says. "A lot of people say that's lacking in Downtown LA. It seems like a dense neighborhood at times, but it's pretty quiet [in South Park] most of the time."
For more than a week, the
Wilshire Grand
, its hotel rooms darkened, has been displaying its own tribute—an
enormous digital display
that reads "thank you medical workers." Eastwood says these tributes are nice, but that she wishes some of the positive energy could be directed toward ensuring better pay and benefits for non-medical workers on the front lines of the COVID-19 crisis.
"This sort of misses the custodians, grocery workers, and lower paid workers who are essential right now," she says.
Berman says the nightly cheering is a small gesture, but that it's a clear and easy way for people to feel like they are supporting their community at a time when public officials are urging most people to simply
stay at home
. It can also be therapeutic. "There's nothing like opening the window and yelling," she says.
Main photo by Valery Sharifulin\TASS via Getty Images